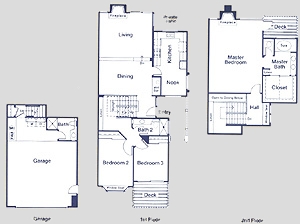 Approximately 1,900 sq. ft.
The San Tropez has three bedrooms, ideal for the family with one or two children — or the couple wanting "his" and "hers" hobby rooms.
There's another dramatic two-story entry with a skylight. The daytime areas are on the entry-level: step-down living room with fireplace and sliding glass door, dining room with wet bar, U-shaped kitchen, and nook.
Two bedrooms, one with a bay window seat, a bath, and an outdoor deck, are half a floor up.
On the top floor, a luxurious 700-sq.-ft. master suite features a dramatically inviting oversized bedroom with a fireplace, a huge walk-in closet, and a second deck. An upper hall window seat provides a cozy reading corner.