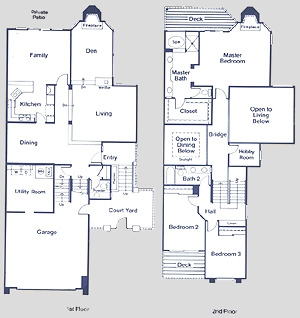 Approximately 2,700 sq. ft.
The Colony's piece de resistance — its most spacious and luxurious model — The Costa de Oro, has many exciting features.
A second-story bridge highlights a spectacular two-and-one-half-story entry. The entry views a two-story living room with a wet bar and a two-story dining room with a huge skylight. Also on this level are a step-down, light-filled den with a fireplace and soaring ceiling, the kitchen, and a spacious family room.
A half floor up are two bedrooms, a full bath, and an extra walk-in closet.
On the top level, the spectacular bridge looks down to the living and dining rooms — and leads to a sumptuous secluded master suite with fireplace, bay windows, compartmented master bath with shower and tub, huge closet, and roomy deck.