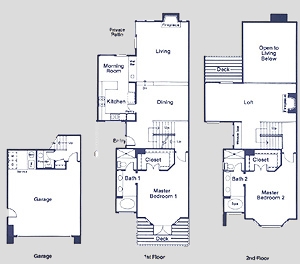 Approximately 2,350 sq. ft.
Designed for those who entertain weekend guests or wish to co-own a second home, The San Sebastian provides two luxurious bay-windowed master suites, identical, but one has a large deck. Both suites feature separate tubs and showers and large closets.
The spacious step-down living room with a wet bar, dining room, kitchen, morning room, and patio are on the entry-level.
An extra large loft with fireplace and deck occupies the intermediate level, adjoining a charming stair landing window seat.